Второй Панславянский Конгресс детских неврологов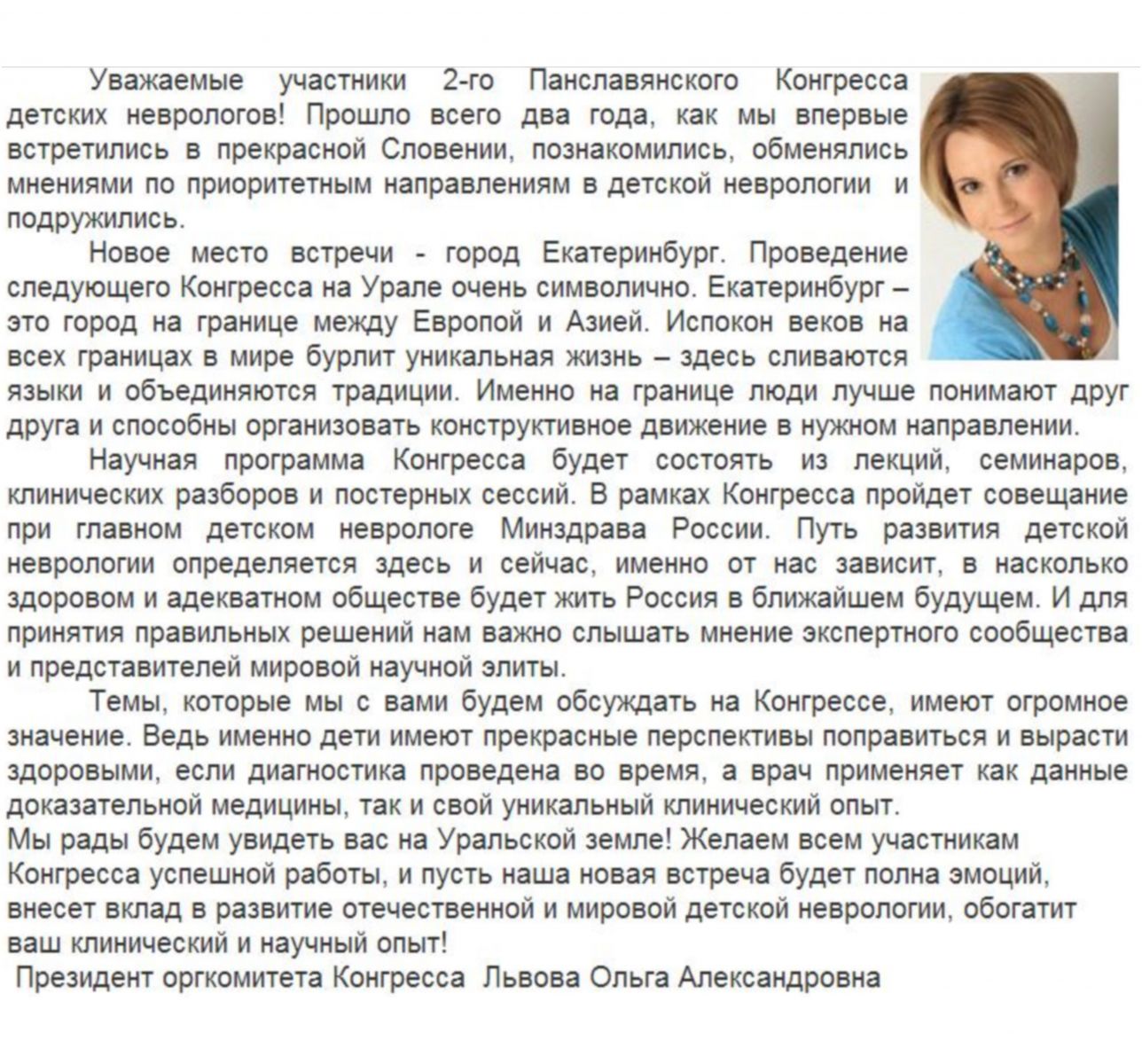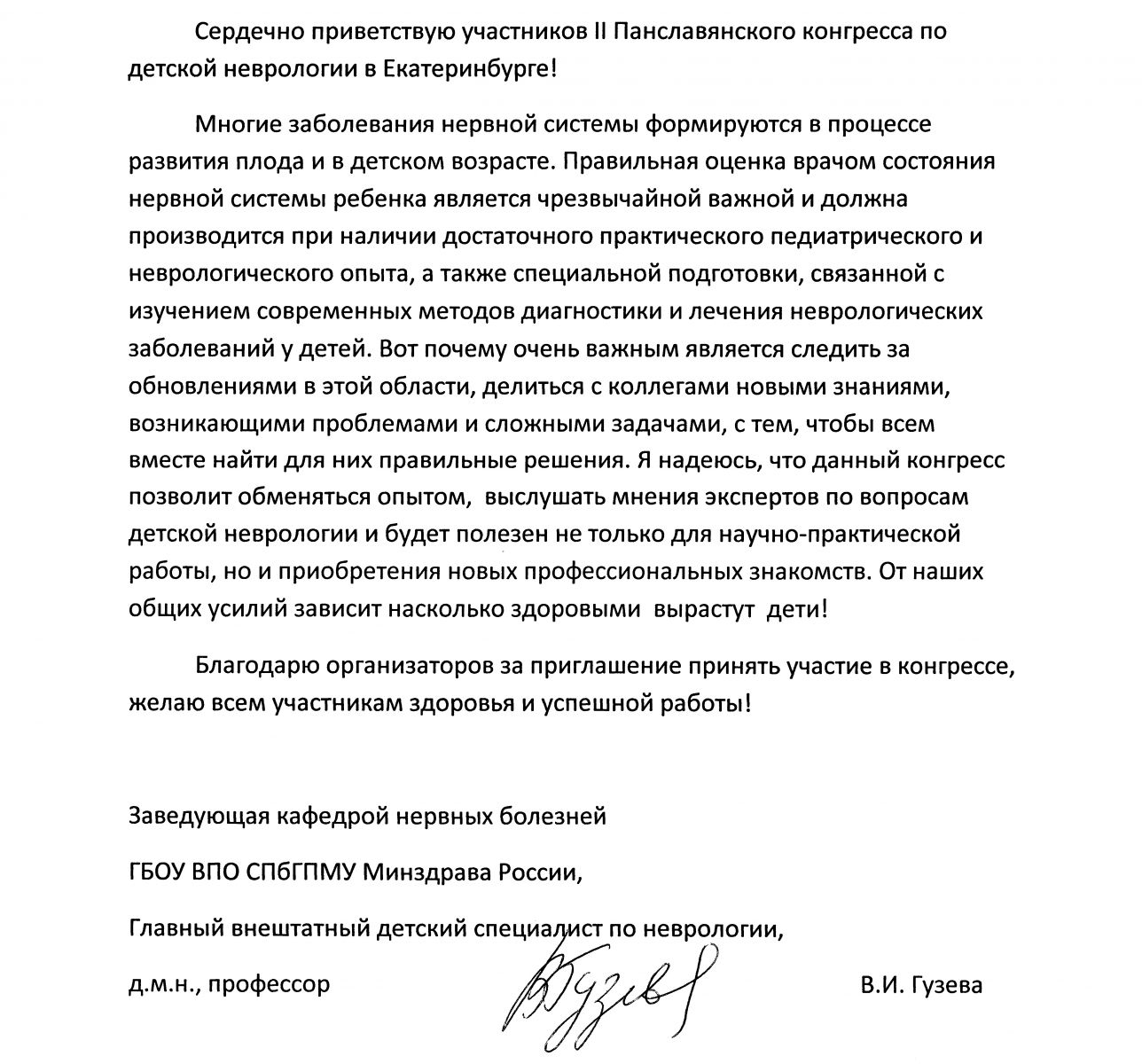 Организационный комитет Второго Панславянского Конгресса детских неврологов
Шалькевич Леонид Валентинович (Беларусь) – к.м.н., доцент, заведующий кафедрой детской неврологии Белорусской медицинской академии последипломного образования (БелМАПО), главный детский невролог Министерства здравоохранения Республики Беларусь.
Заваденко Николай Николаевич (Россия) - д.м.н., профессор, заведующий кафедрой неврологии, нейрохирургии и медицинской генетики педиатрического факультета Российского национального исследовательского медицинского университета (РНИМУ) имени Н. И. Пирогова .
Пальчик Александр Бейнусович (Россия) - д.м.н., профессор, заведующий кафедрой психоневрологии факультета послевузовского и дополнительного профессионального образования (ФП и ДПО) Санкт-Петербургского Государственного Педиатрического Медицинского Университета (СПбГПМУ) Минздрава России.
Ковтун Ольга Петровна (Россия) - д.м.н., профессор, зав. кафедрой педиатрии и неонатологии ФПК и ПП, проректор по НИР Уральского государственного медицинского университета (УГМУ), главный педиатр УрФО, директор Свердловского филиала ГУ Научного центра здоровья детей РАМН.
Аронскинд Елена Витальевна (Россия) - д.м.н., главный врач и генеральный директор ООО «Здоровое детство».
Зыков Валерий Петрович (Россия) – д.м.н., профессор, заведующий кафедрой детской неврологии Российской медицинской академия постдипломного обучения (РМАПО).
Цориев Андрей Эльдарович - к.м.н., ассистент кафедры лучевой диагностики Уральского государственного медицинского университета (УГМУ), главный внештатный специалист по лучевой диагностике управления здравоохранения г. Екатеринбурга.
Белоусова Елена Дмитриевна - профессор, доктор мед. наук, Заслуженный врач России, заведующая отделом психоневрологии и эпилептологии ФГБУ МНИИ педиатрии и детской хирургии МЗ РФ
Бембеева Раиса Цеденкаевна - д.м.н., профессор кафедры неврологии, нейрохирургии и медицинской генетики педиатрического факультета РНИМУ им. Н.И.Пирогова, член IPMSSG
Специальные гости Второго Панславянского Конгресса детских неврологов
Ливен Lagae
Президент Европейского общества детской неврологии (EPNS), редактор главный Европейском журнале неврологии детской , профессор детской неврологии .
Темы, представляющие интерес: ЭЭГ; вызванных потенциалов эпилепсии, когнитивные проблемы, противоэпилептические лекарственные средства, стимуляция блуждающего нерва, СДВГ.
Бану Anlar
Профессор, M.Sci степени, Университет Хаджеттепе медицинский факультет, кафедра детской неврологии, Анкара (Турция).
Она является членом турецкой детской неврологии общества, Американской академии неврологии, и Азиатско-Океании ассоциации детских неврологов (AOCNA).
Она проводит административные обязанности, член правления и секретарь Европейского детской неврологии общества (EPNS) и как член правления Международной ассоциации детских неврологов (ICNA).
Темы, представляющие интерес: иммуноопосредованные неврологические заболевания, нарушения развития, нейрофиброматоз типа 1.
Профессор, главный детский Неврология и нервной
Расширенный Педиатрия центр, аспирант Института медицинского образования и исследований, Чандигарх (Индия)
Лоран Серве
MD, PhD, детский невролог. Он является главой Службы клинических испытаний и баз данных в Институте из миологии, больницу Де Ла Питье Сальпетриер, Париж, Франция, и координатора Справочного центра по нервно-мышечных заболеваний, Льеж, Бельгия. Темы интересные трансляционной медицины, Критерии оценки и клинические испытания в нервно-мышечных заболеваний. Он также координирует multisciplinary внешний консультацию, посвященную сексуального здоровья в нервно-мышечные расстройства
Линда Дж. Де Meirleir
MD, PhD, профессор детской неврологии и метаболических заболеваний. Она в настоящее время начальник детской неврологии А.Н. болезней обмена веществ в Свободном университете Брюсселя вБельгия. Ее основная область исследований ориентирована на интенсивное исследование врожденных нарушений метаболизма, что приводит к врожденным лактоацидозе синдромов в том числе клинической, биохимической и молекулярной расследования дыхательной цепи митохондрий дефекты и болезни дефицита пируватдегидрогеназы и лизосомальные. В административном, она является активным избран членом правления Европейского детской неврологии общества (EPNS) с 1998 года. Она также член совета ICNA с 2010 года. В настоящее время она является президентом Бельгийского общества детской неврологии и президент metabolics.be.
Colin Kennedy
Professor in Neurology and Paediatrics, University of Southampton
Honorary Consultant in Paediatric Neurology, University Hospital Southampton NHS Foundation Trust
Founding Convenor of the European Committee of National Advisors in Paediatric Neurology
Former President of European Paediatric Neurology Society and British Paediatric Neurology Association
Chair of international EPNS-EACD-WHO working group on care of children with neurological problems in the Commonwealth of Independent States.
Topics of interest: Quality of survival after childhood brain tumor; Neurological assessment of the comatose child and the diagnosis of death; The effect of universal newborn screening and early intervention on language development in permanent childhood hearing impairment.
Fuyong Jiao
Professor and Head of the Department of Pediatrics the Shaanxi Provincial People's Hospital of Xi,an Jiaotong University
President of China Society for Prevention of Child Abuse and Neglect
Executive councilor of International Society for Prevention of Child Abuse and Neglect ( ISPCAN )
Предварительная программа
Pre-Congress Workshop 1

22/04/2014

Pre-Congress Workshop 2

22/04/2014

Pre-Congress Workshop 3

Elena Aronskind (Russia):Neuro-orthopedic suit EVA as the rehabilitation method in children with cerebral palsy – 1,5 hours

Laurent Servais (France):Neuro-muscular disorders - analysis and demonstration of clinical cases – 3 hours

Workshop

Moderator 1

First and last name

Email

Moderator 2

First and last name

Email

1.

Neonatal Neurology

Alexander Palchik (Russia)

Colin Kennedy (United Kindom): A treatment trial of drugs for the management of post-haemorrhagic hydrocephalus in infants – 30 min

Alexander Palchik, Gulnara Sofronova (Russia): Maternal alcohol consumption and fetal alcohol syndrome in the Sakha republic – 20 min.

Submitted applications:

Pichugov Dmitry, Levitina Elena (Russia): The diagnostic importance of the neuronspecific enolase in the severity estimation in children with very low and extremely low body mass in the birth with hypoxic damage of the central nervous system

Zaytseva Irina; Belskaya Galina (Russia): The dynamic of neurological symptoms in children with low body weight

Chebanenko Natalya, Batysheva Tatiana, Bykovа Olga (Russia): Maternal health in children with neurological diseases

Guzeva Valentina; Melashenko Tatiana; Guzeva Viktoria (Russia): Analysis of background EEG in preterm infants with ischemic brain damage and seizures/

Shveykina Viktorija (Ukraina): The Role of brain-derived neurotrophic factor (BDNF) on the stage of diagnostics of Hypoxic Ischemic Injury of brain premature born baby in Acute Phase

Telegina Elena, Kirillov Alexandr (Russia): EEG "flare-depression" patterns analysis with early childhood epileptical encephalopathy conditions

Zavadenko Aleksandra; Degtyareva Maria; Medvedev Mikhail; Grebennikova Olga (Russia) Neurodevelopmental outcomes in infants with neonatal seizures.

Shnitkova Elena, Dyakonova Elena (Russia): Perinatal hypoxic-and-ischemic injury as a risk factor of somatic-and-neurologic pathology in pediatric patients

2.

Between Pediatric Neuropsychiatry

and Neurology

Nikolay Zavadenko (Russia)

Bakur Kotetishvili(Georgia)

Lieven Lagae (Belgium): Cognitive issues in childhood epilepsy – 20 min

Nikolay Zavadenko (Russia) ADHD: from neurobiological basis to diagnosis and treatment – 20 min

Fu-Yong Jiao (China): Clinical observation on treatment of Tourette syndrome in Chinese children by Clonidine transdermal patch – 20 min

Submitted applications:

Elizabeth Kozlova, Nikolay Zavadenko (Russia) The assessment of developmental features in children with dysphasia.

Svetlana Nemkova (Russia) Cognitive disorders in the long-term period of traumatic brain injury in children

Leonid Chutko (Russia) Cognitive and emotional disorders in children with tic disorders

Valery Zykov (Russia): Tic in children and adolescence

Kiselev Ilia A.; Schnayder Natalia A.; Kantimirova Elena A. (Russia): Family history of epileptic encephalopathy against the background of chromosomal aberrations

Guseva Maria; Zavadenko Nikolay; Schederkina Inna; Suvorinova Natalia; Nesterovskiy Yury; Shipilova Elena (Russia): Colour diagnostics: new possibilities in neuropaediatric practice

Bitterlikh Leonid; Bitterlikh Rost (Ukraine): Computerized pharmatecture of combined neurological and psychiatric disorders

Tsvetkov Andrew V.; Pokrovskaya Svetlana V (Russia): Dysrhythmia in children - a common problem of child neurology and neuropsychology

Dyakonova Elena (Russia): Hyperactive child: Treats or not to treat?

Nogovitsina Olga (Russia): Analyze of efficiency of system complex organization for ADHD children

Kalashnikova Tatyana; Kravtsov Yury; Anisimov Grigory; Konshina Natalya (Russia) The structure of sleep in children with attention deficit hyperactivity disorder

Yuryeva Diana S.; Palchik Alexander B. (Russia): Neurodevelopment features in children with hearing deprivation (preliminary report)

Kotetishvili Bakur; Tatishvili Nana; Makashvili Malkhaz; Taliashvili Tamar (Georgia): Stereotypes still encourage teachers to convert forcedly left-handed pupils to the writing with the right hand

3.

Epilepsy in Children

Leonid Shalkevich (Belarus)

Lieven Lagae (Belgium)

Lieven Lagae (Belgium): Сurrent treatment options in childhood epilepsy – 30 min

Tatishvili Nino; Kipiani Tamara; Tatishvili Sofia (Georgia): Epileptic encephalopathies of early childhood – 20 min

Leanid Shalkevich (Belarus): А single unprovoked afebrile seizure in children – 20 min

Submitted applications:

Shnayder Natalia; Dmitrenko Diana; Sharavii Lada; Shapovalova Evgeniya; Duyzhakova Anna (Russia): The frequency of polymorphic alleles of CYP2C9 gene in Russian and Tuvan children with epilepsy

Stroganova Maria; Shnayder Natalia; Martynova Galina (Russia): Epidemiology of febrile seizures in the Krasnoyarsk City (Eastern Siberia)

Shchederkina Inna (Russia): Early onset benign childhood occipital epilepsy (Panayiotopoulos syndrome): clinical masks.

Tomenko Tatyana, Perunova Natalia (Russia): Nature of neurological and neuropsychological impairments in children with BEDC EEG

Marueva Natalia; Shirshov Yuri; Shnayder Natalia; Shulmin Andrey(Russia): Role of epilepsy and epileptic syndrome in disability of children and adolescent in Zabaikalsky Krai

Guzeva Valentina; Guzeva Victoria; Guzeva Oksana (Russia): Research of thyroid stimulating hormone content in blood of girls with different forms of epilepsy

Liukshina Natalia (Russia): Sudden Unexpected Death in Epilepsy: Risk Factors and Potential Pathomechanisms

4.

Epilepsy in Adolescents

Guzeva Valentina (Russia)

viktoryka@mail.ru

Nana Tatishvili(Georgia)

Pratibha Singhi (India): "Childhood epilepsy syndromes" with the accents to adolescents' age – 30 min

Belousova E. Progress in treatment of epilepsy: focus on perampanel– 30 min

Nana Tatishvili (Georgia): Genetic focal epilepsies of Childhood – 20 min

Submitted applications:

Pilina Guzel (Russia): Anxiety in children with epilepsy

Marueva Natalia; Shirshov Yuri; Shnayder Natalia; Shulmin Andrey (Russia): Role of epilepsy and epileptic syndrome in disability of children and adolescent in Zabaikalsky Krai

Rakhmanina Olga; Levitina Elena; Kolchanova Maria; Boychenko Sergey (Russia): Case report on devasting epileptic encephalopathy in school-aged children

5.

Cerebral Palsy

Milivoj Veli?kovi? Perat(Slovenia)milivoj.velickovic@mf.uni-lj.si

Pratibha Singhi (India): Recent concepts in etiopathogenesis of cerebral palsy– 30 min

Biserka Reši? (Croatia): Gene's polymorphisms in children with perinatal brain injury and cerebral palsy– 30 min

Linda De Meirleir (Belgium): Metabolic diseases mimicking cerebral palsy – 30 min

Submitted applications:

Nemkova Svetlana; Zavadenko Nikolay; Maslova Olga; Kholin Alexey (Russia): The use of space technologies for the rehabilitation of the cognitive disorders in childern with cerebral palsy

6.

Stroke

Zykov Valery (Russia)

zykov_vp@mail.ru

Stanislav Evtushenko (Ukraine)

Stanislav Evtuchenko (Ukraina): Stroke, cardiac disorders and embolism in childhood - 30 min

Valery Zykov, Irina Komarova( Russia): Arterial ischaemic stroke in childhood - 30 min

Olga Lvova, Olga Kovtun (Russia): Hemorrhagic stroke in children under 3 year age – 20 min

Submitted applications:

Valery Zykov ( Russia): Сlinical - neuroimaging correlation of cerebral venous thrombosis in children.

Minin Alexey V., Pshenichnaya Xenia I., Palchik Alexander B. (Russia): Features of haemostasis in children with acute arterial ischemic stroke

Vyatkina Alina; Telegina Elena (Russia): Clinical ischemic stroke observation in a child with the combination of etiologic factors

Livshits Matvey; Popov Vladimir; Zavadenko Nikolay; Mironov Ilya; Levov Alexander; Umerenkov Victor; Karpov Anton; Manjos Piotr; Chigibaev Marat; Gerasimov Eric; Andreeva Elena; Vrublevskiy Sergey (Russia): Intracerebral hemorrhage as a first manifestation of brain vascular malformations in children

7.

Headache

Irina Zhauniaronak (Belarus): Childhood periodic syndromes that are commonly precursors of migraine – 20 min

Submitted applications:

Rakhmanina Olga; Levitina Elena (Russia): Clinical and biochemical characteristics of migraine in children

8.

Tuberosis sclerosis complex(symposium sponsored by Novartis Pharma)

Belousova Elena (Russia)

ebelousova@inbox.ru

Nana Tatishvili (Georgia): spectrum of tuberous sclerosis complex – 20 min

Submitted applications:

Dorofeeva Marina (Russia): Out-patient follow up of patients with tuberous sclerosis (TSC) – 20 min

Satanin Leonid (Russia): Neurosurgical treatment of SEGA associated with TSC– 20 min

Belousova Elena (Russia): Medical treatment of SEGA-TSC patients– 20 min

Vlodavets Dmitry (Russia): Clinical case presentations of TSC patients– 20 min

Shapovalova Evgeniya; Shnayder Natalia; Dmitrenko Diana; Kantimirova Elena (Russia): Local experience in establishing a specialized care facility for patients with TSC – 10 min

9.

Neurodegenerative

and Rare Diseases

Linda De Meirleir (Belgium): Neonatal metabolic encephalopathies - 30 min.

Buyanova Galina (Russia): Niemann-Pick type C disease, clinical cases. – 30 min

Submitted applications:

Nikitina Natalia; Belyaeva Tatyana; Voroshnin Vadim; Nikolaeva Elena; Lobanova Anna; Deryabina Svetlana (Russia): Early diagnostics of rare diseases by expanded newborn screening in Sverdlovsk region

Khasanova Galina; Vyatkina Alina; Telegina Elena (Russia): Clinical observation of Fabry's disease debut in a 9-yaers old girl

10.

Autoimmune

neurological disorders in Children and Adolescents

Raisa Bembeeva (Russia)

Banu Anlar (Turkey): Approach to Initial Demyelinating Event in Children – 30 min

Raisa Bembeeva (Russia): Modern aspects of therapy of the autoimmune disease in the pediatric neurology– 30 min

Submitted applications:

Kirill Kirgizov (Russia): High-dose therapy and hematopoietic stem cell transplantation in pediatric patients with CNS autoimmune diseases

Sivertseva Stella; Levitina Elena; Trajkhil Anna; Smirnova Nina; Boiko Aleksei (Russia): The First Experience of Natalizumab Therapy for Highly Active Pediatric Multiple Sclerosis in Russia.

11.

Neuro-muscular disorders

Sergei Nikitin (Russia)

Laurent Servais (France)

Laurent Servais (France): Current and coming treatment of Duchenne Muscular Dystrophy – 30 min

Submitted applications:

Artemyeva S. (Russia): Perspectives in treatment of neuromuscular disorders

Vlodavets Dmitry (Russia): Muscle MRI in differential diagnosis of neuromuscular disorders

12.

Rehabilitation of children with neurological disorders

Aronskind Elena (Russia)

Milivoj Veli?kovi? Perat (Slovenia): At Risk Factor for Early Brain Damage – 30 min

Alexandr Yakovlev, Julia Trishina (Belarus): Differentiated rehabilitation of children with CP spastic forms depending on the type of gait disturbance – 20 min

Submitted applications:

Zaytseva Irina (Russia): Cognitive correction in young children by means of biofeedback method

Martyniuk Vladimir (Ukraine): From the Hypothesis of a Neuro Protective and Neuro Regenerative Therapy to Practical Experience of Treating Children with Metabolic Encephalopathy

Schnayder Natalya Alekseevna; Goncharova Svetlana; Pivsaeva Polina (Russia): Physical habilitation of children with Charcot-Marie-Tooth disease

Martyniuk Vladymyr; Spasibukhova Victoria (Ukraine): Modern approaches to the rehabilitation of children with disabilities

Zmanovskaya Vera, Levitina Elena Butorina Marina, Pavlova Olga, Bun'kova Svetlana, Harlamova Nataliya, Ibragimova Raisa,Semenova Nadezhda (Russia): The prospects of long-term use of botulinus neurotoxin A type bta in complex rehabilitation of children with spastic cerebral palsy